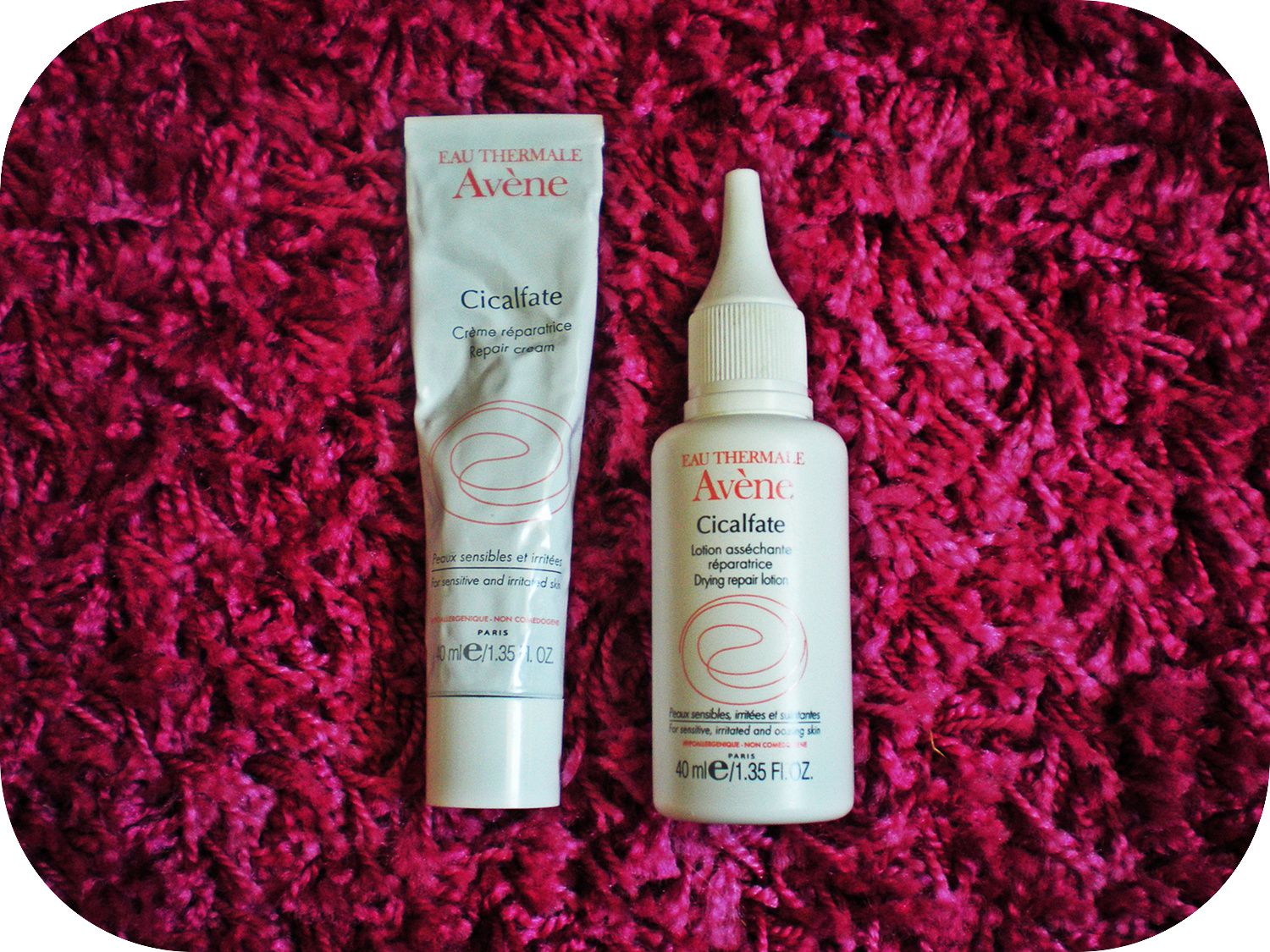 As promised: first article, first review!
I wanted to talk to you today about my favorite part of my night time routine which are both the cream and the lotion from the Cicalfate line from Avène.
The Cicalfate Restorative Skin Cream
I discovered this cream in January, it was prescribed to me after I had a beauty spot (pretty big and on my face) removed. The Cicalfate Restorative Skin Cream helps the skin recovery process by minimizing the risks of infection (with copper sulfate which is an antibacterial). It is also 45% made of Avène Thermal Spring Water which soothes and softens the skin. Moreover, it is hypoallergenic and non-comedogenic.
After reading all those benefits, I thought it would be the perfect night cream since it claims to do everything an acne-prone skin is looking for. My skin is normal-to-dry but is very dehydrated, so I was on the hunt for a cream that was going to fully hydrate it without causing new breakouts.
One night when my skin was feeling very dull, I decided that I had nothing to lose and applied the Cicalfate cream on my entire face, over my eyes also. I have to admit my face felt quite greasy and I got scared for a second! But I went to sleep as usual and woke up the next day with a fully hydrated and plump skin, and all the current little spots were drying out (but were not flaky-looking). I now apply it every now and then when I feel like my skin needs a little boost, which I would say is about 3 times a week, always at night.
I have seriously seen a huge improvement in my skin since I have been using this product. I think a lot of my imperfections were due to the dehydration of my skin and this cream helping with it made a lot of them go away and never come back. I am now also using it as a multi-purpose cream, everytime I have dry patches (around my nose or mouth for example) or a little scratch, it makes it go away super-quick!
The Cicalfate Lotion
After falling in love with this Cicalfate Restorative Cream, I discovered that Avène was also doing a lotion in the same line which was said to dry out, repair, sanitize and calm the skin. This is the perfect product after (I knooooowww, you are never supposed to do it but hey, everyone does!) touching one of your pimples. After washing, drying and putting your cream on, it is the perfect thing to apply just on the spot and let dry for the night! I have to warn you though: it has a white aspect and dries out like that, so you make want to use it when your boyfriend is not around!
Have you ever tried other products from Avène?
Which cream is your favorite to hydrate and nourish your skin?
====================
Comme promis : premier article et première revue !
Je voulais vous parler aujourd'hui de mon étape préférée de ma routine du soir : la crème et la lotion Cicalfate d'Avène.
La Crème Réparatrice Cicalfate
J'ai découvert cette crème en janvier, elle m'a été prescrite après l'ablation d'un grain de beauté (assez gros et sur le visage). La crème Cicalfate répare, assainit et apaise la peau (notammeent grâce au sulfate de cuivre qui limite la prolifération bactérienne). Elle est aussi hypoallergénique et non-comédogène.
Après avoir lu toutes ces propriétés, j'ai pensé qu'elle pourrait être la crème de nuit parfaite puisqu'elle prétend faire tout ce qu'une peau à tendance acnéique recherche. Ma peau est normale à sèche, tout en étant très déhydratée. J'étais donc à la recherche d'une crème très hydratante mais sans créer de nouvelles imperfections.
Un soir, trouvant ma peau terne et très irrégulière, j'ai pensé que je n'avais rien à perdre et ai appliqué la crème sur mon visage entier, yeux compris. Je dois avouer que ma peau avait un aspect très gras et luisant, pas hyper rassurant... Mais en me levant le lendemain, ma peau était litéralement transformée : la crème entièrement absorbée, ma peau était très bien hydratée et rebondie. Toutes les petites imperfections que j'avais la veille étaient très atténuées. Je donc pris l'habitude de l'appliquer plusieurs fois par semaine (plus ou moins 3 nuits).
Ma peau a totalement changée depuis que je l'utilise (environ 5 mois). Je pense que beaucoup de mes imperfections étaient dues au fait que ma peau soit déhydratée. J'utilise aussi cette crème pour toutes les petites irritations, "bobos" et zones sèches, aussi bien sur le visage que sur le corps.
La Lotion Asséchante Réparatrice
Après être tombée amoureuse de la crème, j'ai découvert que Avène faisait aussi une lotion dans la même gamme, censée assécher, réparer, assainir et apaiser la peau. C'est la lotion parfaite après avoir "touché" un petit bouton (et je saaaaais qu'il ne faut pas le faire !). Après avoir lavé, séché et mis sa crème de nuit, il suffit de l'appliquer précisément sur le bouton et laisser sécher toute la nuit. Par contre, mieux vaut être averti(e) : elle laisse des trâces blanches (sur la peau, pas sur les draps), donc mieux vaut l'utiliser quand Monsieur n'est pas à la maison !
Et vous, avez-vous l'habitude d'utiliser des produits Avène ?
Quelle est votre crème de nuit préférée ?